Meet Our Negotiation Team
Shahzad Bhatti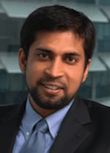 Shahzad is a graduate of Harvard Law School and also a former instructor at Harvard. He has provided training to individuals from six different continents across a wide spectrum of professions. His clients range from Partners and Associates at Law Firms to diplomats and CEO's of Fortune 500 companies. Shahzad was also selected as a Young Global Leader (YGL) by the World Economic Forum. Shahzad has also served as the Director of Investments for a large Asian private equity fund, CEO of Four Corners Technologies (owners of Website.com), CEO of Axiom Learning and as an attorney in Tokyo, New York and Washington, DC. Shahzad is graduate of Harvard Law School, Harvard's Kennedy School of Government and Columbia University, where he majored in Political Science-Economics and Biochemistry and was elected captain of the track and cross-country teams. Outside of work, Shahzad is happily married and the proud father of three children.
[ top ]
---
Saima B. Yusuf

Saima is an Associate Partner at the Prism Leadership Group. Saima brings a wealth of experience to her work at Prism, including a decade of experience in leadership. Prior to joining Prism Leadership Group, Saima taught at Harvard and also worked at a multi-billion-dollar investment organization in Dubai, UAE where she worked directly with CEOs in various industries, including healthcare, in developing their leadership capacity and business strategies. Saima's experience ranges from working with schools to large multi-nationals. She has also done pro-bono work in Asia for NGOs. Saima holds an MBA from New York University and an MPA from Harvard University where she was a Presidential Scholar.
[ top ]
---
Celia Chase

Celia brings a wealth of experience as leadership coach, and team facilitator. With over 20 years in senior management and VP roles leading strategy, Celia has a demonstrated track record of supporting and building high performing teams. Celia is also experienced in navigating challenges facing healthcare clients and partners with established and emerging leaders to deliver positive growth and increase effectiveness. She is dedicated to moving her clients forward through their vision to effectively navigate difficult conversation and situations. She holds an MBA from the Tuck School of Business at Dartmouth College, and a Bachelor of Arts degree from UC Berkeley.
[ top ]
---
Beth Finkelstein

Beth is a lead trainer, executive coach and consultant at the Prism Leadership Group. She brings a wealth of experience to Prism Leadership Group, including twenty years in the public sector where she held executive leadership positions and built corporate partnerships. Her particular expertise is in organizational development, staff training, and executive coaching. Beth works with executives, leaders and organizations of all sizes. She also provides leadership development focused on elevating women in sales, technology and media. She received her Ed.M from the Harvard Graduate School of Education, B.S. from New York University and completed the Executive Coaching Certification Program at Columbia University. She's happily married with one daughter.
[ top ]
---
Haroon Kalam

Haroon is a Senior Consultant and Trainer with the Prism Leadership Group. He is particularly adept in issues of leadership and management. Prior to joining Prism, Haroon was taught at Harvard's Kennedy School of Government has also held positions at the World Bank and with the U.S. Government. Haroon holds an MPA from Harvard University, where he was a William J. Fulbright scholar. While at the Kennedy School of Government, Haroon conducted research on leadership theory and difficult conversation and its application in non-profit and government settings. Haroon's training and consulting work has taken him all over the world.
[ top ]
---
Colin McRoberts

Colin is a graduate of Harvard Law School and has been a consultant and trainer with Prism Leadership Group for over ten years. Previously a practicing attorney and commercial litigator, Colin has worked with seminar leaders and clients across a wide range of sectors, with a particular expertise in healthcare organizations, both private and public. Colin has worked with numerous clients with operations of all sizes, from global footprints to small business. His work with the Prism Leadership Group has taken him to clients across North America, Latin America, Asia and Europe. Colin has also done a great deal of pro bono work with clients across the charitable spectrum. In addition to his work with Prism, Colin teaches by invitation to executive MBA students at a major university.
[ top ]